Turn your

Listings

into instant Facebook posts.
Copy your property listing URL into the system and immediately get 3 Facebook posts generated with the listing data, images, and links! Don't miss out on social traffic
Stop saying you will post it later and just do it automatically!
Simply copy in the Realtor.com or Realtor.ca URL for your property and generate multiple beautiful posts to promote the listing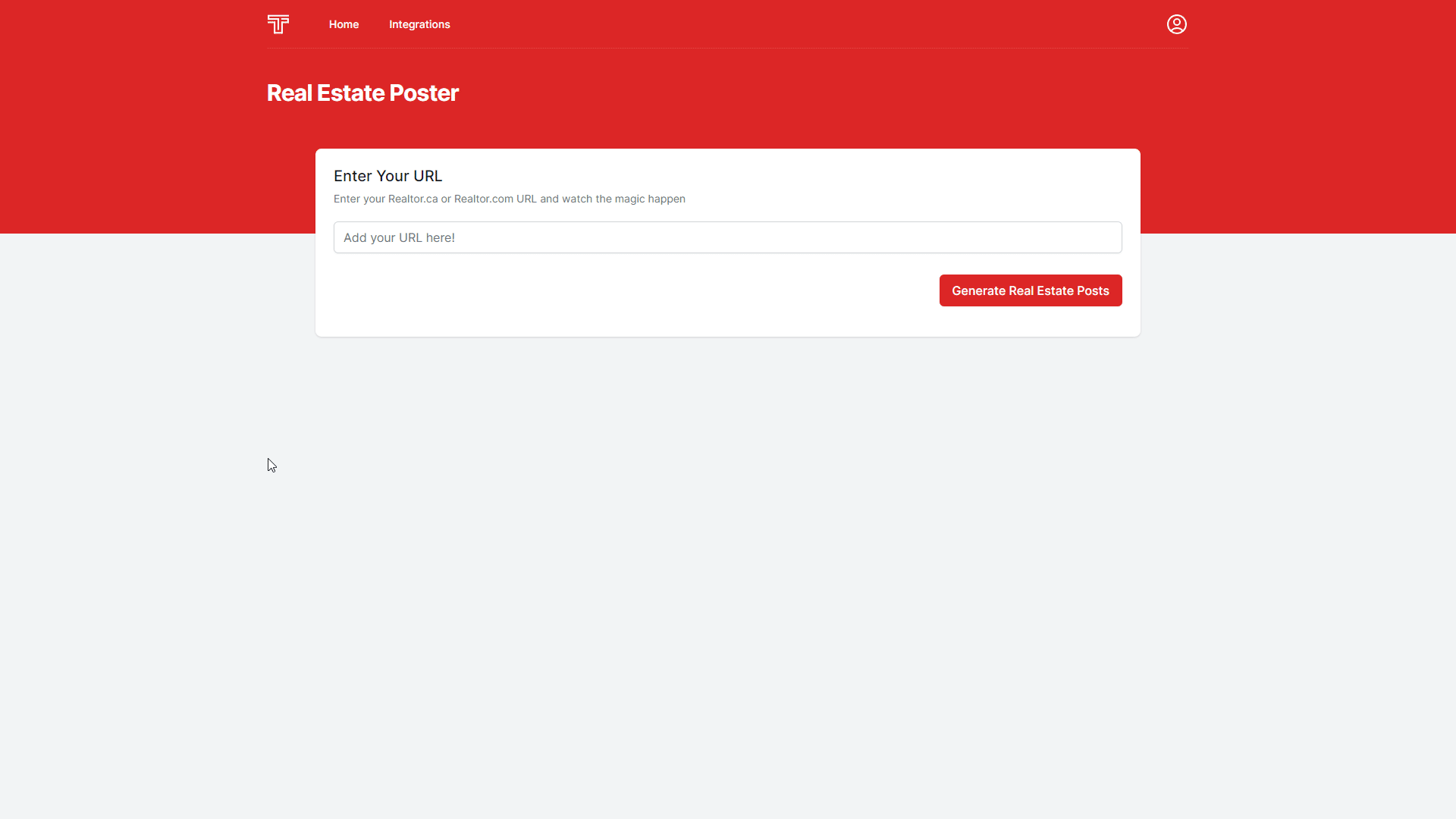 Best Practice
The best way to get people interested
Buyers are influenced by the same groups of people; family and friends. You need to be utilizing your network of followers. Even if they already own a home, they might influence your next customer!
For Realtors
If you just need some help gaining attraction, traffic, and engagement on your listings then this is the perfect fit for you. Almost no extra time and immediate results make it a no brainer for even the smallest real estate team.
For Brokerages
Need to handle multiple agents or realtors at one time? No problem, the Real-Estate-Poster allows you to set up multiple channels and schedule out posts to each ahead of time
Simple pricing,

for everyone.
Too many realtors miss out on the benefits of social media. Our goal is to help highlight your property listings without spending the time.
Free
Good for anyone that wants to try creating social posts from their listings
$0
No credit card required

Create and schedule posts for your listings

Schedule up to 2 listings (6 posts total)
Get started
Pro
Perfect for any agent, brokerage, or realtor that wants to schedule and share their listings without any hassle
$4.99
Create and schedule posts for your listings

Unlimited posting to 3 channels

$0.99 for every additional channel
Get started Frequently asked questions
If you can't find what you're looking for, email our team and we will get back to you right away!
What is the best type of content that realtors should post on social media?

The best content to post is your listings for sale. This is what your audience wants to see. Do not miss the opportunity for traffic

Can I schedule more then one listing through the Real Estate Poster?

Yes, absolutely! The free model will allow you to schedule out 2 listings and the paid model is unlimited.

Can I connect multiple Facebook pages for multiple real estate agents?

Yes, you can integrate multiple pages and choose which account gets the listing scheduled to it!